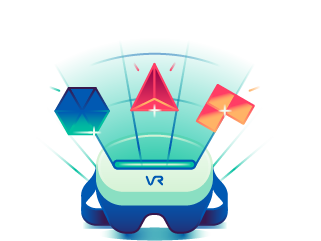 The Mighty Metaverse
6 Stocks
Meta
Microsoft
Roblox
Fastly
Nvidia
Autodesk
View all thematic lists
Big Tech is Chasing the Metaverse: Which Stocks Could Benefit?
News
The Metaverse: a lifelike virtual environment where you and your avatar can explore a digital world. Although Facebook recently announced its shift to focus on the metaverse, the battle has already long begun and there's a huge amount of money involved.
Anastasia Amoroso, Chief Investment Strategist at iCapital Network, tells Yahoo Finance that in addition to big tech, about 4000 companies are already working on the metaverse concept.
Bloomberg Intelligence expects the market size of the metaverse to be worth approximately $800 billion by 2024. As an investor, you can therefore delve into the growth potential of companies that are working on these virtual worlds.
Companies that can thrive in the metaverse are video game makers, avatar builders, but also companies that supply the hardware and network applications that are required to make it all work. In this article, we'll discuss a small selection of stocks which could possibly benefit from the future metaverse concept.
Facebook's metaverse
At the end of October, Facebook CEO Mark Zuckerberg announced a new operating name for the company: Meta. From now on, this will be the parent company of apps like Instagram, WhatsApp and Facebook. With this name change, Zuckerberg wants to position his company for the next chapter of the internet: the metaverse.
The company has already experimented with a VR meeting app called Workplace and a virtual social space called Horizons where people can meet using their own avatars.
The metaverse has been around a long time
Despite the way Mark Zuckerberg explains it, we're unlikely to see one big metaverse created by Meta (Facebook). Indeed, Meta is not the only major player in the market. Facebook is actually one of the latecomers in pioneering the metaverse.
Microsoft has an edge over Meta
Tech giant Microsoft has been busy working on applications for the metaverse for a while. At a recent corporate event, CEO Nadella unveiled a new range of virtual products designed to integrate with office software tools like Teams and the 365 software suite. Users will soon be able to join video meetings with their avatar and collaborate in virtual workspaces. On top of that, Microsoft has a huge trump card in the successful Xbox game system where online gamers already meet in virtual worlds.
While Meta has to start from scratch and bring users into the virtual world in a new way, Microsoft can expand the existing tools of its metaverse applications for its existing customer base.
Roblox: how metaverse do you want it to be?
Fashion house Gucci recently launched a new bag at an exclusive event in the virtual world of Roblox. That says everything about the metaverse ambitions of the popular video game. Roblox proves that the metaverse is already out there. Roblox monetises the sale of virtual currency in its games, which allow its 43.2 million daily active users to buy experiences, content and virtual clothing for their characters. The company recently purchased Guilded, which is a platform that can connect different gaming communities. This all makes Roblox an absolute top player in the metaverse.
Three tech stocks that will play a role in the metaverse
Getting your avatar to run smoothly in the metaverse requires a massive amount of data transfer. Companies like Fastly will help. Fastly's platform can move 145 terabytes of data per second across 28 countries, making it an important part of the growing virtual world.
Nvidia's semiconductors and chips are also vital. The company started out with a focus on video games, but its chips are also found in data centres. Everything you need to keep the metaverse running smoothly! If Nvidia can maintain its position as market leader, the future looks bright.
Without 2D and 3D technology from companies like Autodesk, there won't be much to experience in a metaverse. The company's software allows engineers and architects to design realistic virtual worlds in 2D and 3D. It's the standard software for many companies in industrial design, but the software is now also used for companies in gaming and entertainment. If you're thinking of building a virtual world like a metaverse, Autodesk's tools are indispensable right now.
No-one knows what the metaverse will look like in the future, because the possibilities within it are so vast. But as an investor, there is huge growth potential up for grabs.
Sources
Apparently, it's the next big thing. What is the metaverse?, BBC.
Investing in the 'Metaverse', Bloomberg.
Jim Cramer says these 4 companies are the best ways to invest in the metaverse, Kevin Stankiewicz, CNBC.
10 Metaverse Stocks for the Future of Technology, Aaron Levitt, Kiplinger.
—
All views, opinions, and analyses in this article should not be read as personal investment advice and individual investors should make their own decisions or seek independent advice. This article has not been prepared in accordance with legal requirements designed to promote the independence of investment research and is considered a marketing communication.