Hello BUXsters!
Since launching BUX Crypto, we've been growing steadily and have focused our efforts on getting the platform ready for the future. With this momentum, the second phase of our BUX Crypto journey will start with developing new features.
In this article, we want to provide you a quick overview of the features that are on the BUX Crypto roadmap along with a brief explanation.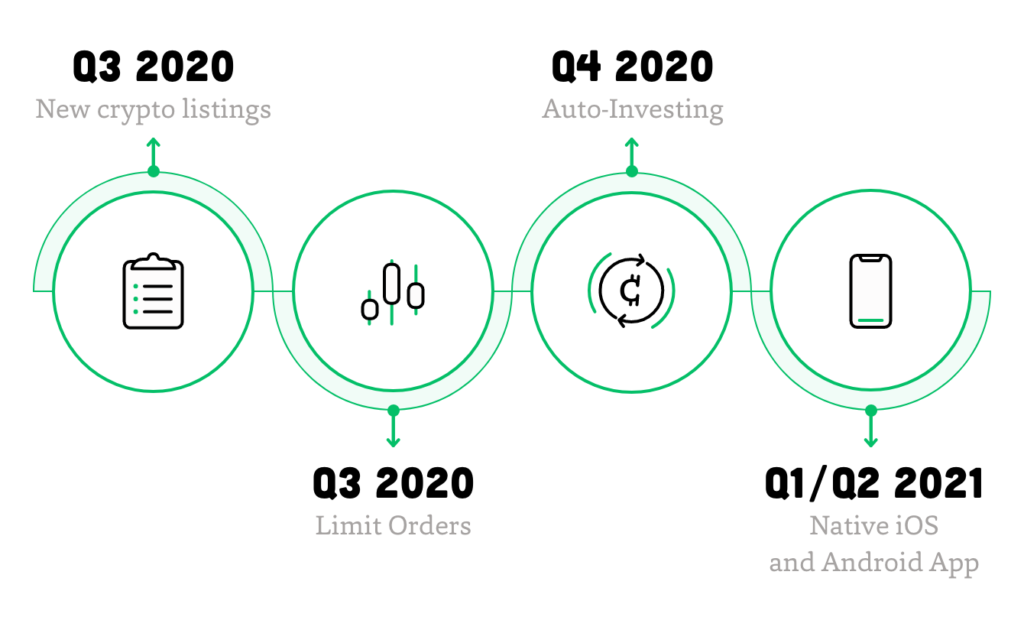 1. New crypto listings (Q3 2020)
In the coming quarter, we'll add more crypto assets to the platform by integrating with a partner. We'll share specifics on what assets these are as soon as possible!
2. Limit orders (Q3 2020)
The BUX Crypto platform currently supports market orders. A market order allows you to make an instant trade that is executed directly for the current market price. The market order offers convenience for some users but lacks the flexibility that some others would like to have. For this reason, we want to introduce the limit orders later this year. A limit order will allow you to open an order for a price you can determine yourself and will be closed once the order is either filled by the market or canceled by you. This allows you to trade on an expected increase or decrease in the market on preset price levels determined by yourself.
3. Auto-investing (Q4 2020)
This feature is based on the dollar-cost-averaging (DCA) method that is widely acknowledged as one of the best investment techniques in history. The auto-investing features allow you to set up a periodic buy or sell of cryptos for a predetermined amount. For example: Set up an automatic buy of Bitcoin every first day of the month for €100. The logic behind this is, when the price of Bitcoin is low you buy relatively high amounts of Bitcoin for €100, and when the price of Bitcoin is high you buy relatively low amounts of Bitcoin. Over time your purchase price will average out and you will be less susceptible to volatility. Some see this as a safer investment approach if your strategy is focused on the long-term.
4. Native iOS and Android app (Q1/Q2 2021)
The number one result from the product survey we conducted was that our users would like to use BUX Crypto on an iOS or Android app, just like the other BUX apps. Therefore, we are going to build a native iOS and Android app! This could also possibly mean an integration of BUX Crypto within another native BUX app.
In addition to these bigger features, there are also other improvements that we'll be working on. Stay up to date by subscribing to our bi-weekly newsletter. You can subscribe by creating a BUX Crypto account.
Lastly, if you haven't saved the date, don't forget that we'll be hosting a live-stream Q&A session for our community this Thursday, June 25th from 20.00 – 21.00 CET. You can access the live-stream here.