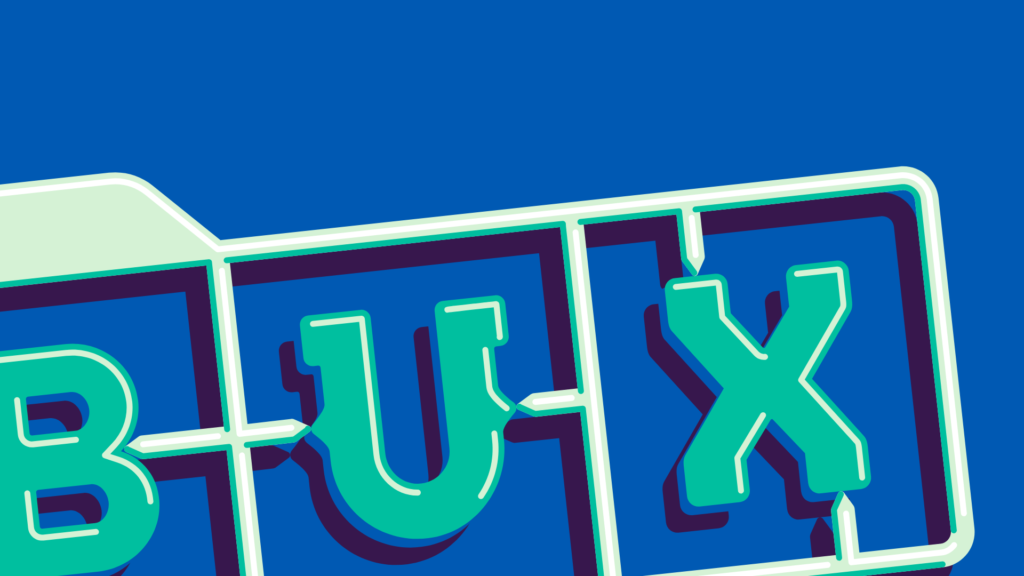 We took a deep dive to see what made BUX Zero investors tick
A word from our CEO
At BUX, we want to better understand the motivations of the next generation of investors (NextGen). We are living in a time where the world of finance is rapidly democratizing, and more people are getting access to wealth-building opportunities that used to be reserved for a select few. But what does this look like? At BUX, we have a unique opportunity to see how this new generation of investors thinks and what their goals are.
What we have seen is that there is already a fundamental shift in how Gen Z and millennials prepare for the future. Several factors contributed to the rising interest in investing: the COVID pandemic, existing economic challenges and the access to mobile-based investing solutions are only a few factors that drove first time clients to start investing. In the first half of 2021, we saw BUX Zero Gen Z clients (up to 24 years old) grow by 112% compared to 2020. Not to stoke any intergenerational competition, but our millennial (25-40-year-olds) user base grew by 118% in the first half of 2021, edging Gen Z out by only a few percentage points.
Read on to take a deep dive into what made NextGen European retail investors tick in the first half this year.
Top 15 stocks – Gen Z vs. Millennials
While Gen Z and millennials might differ on their sentiment towards skinny jeans, they aren't so different when it comes to taking a balanced approach when selecting stocks. The top 15 most purchased stocks shows that both millennials and Gen Z'ers had shared favourites including stocks like Shell, Apple and Tesla. We also noted that both invested in innovative companies.
What motivates these two different generations to invest?
I started investing primarily for my future. I was receiving relatively little interest, so it seemed more attractive to me to start investing. This could provide me with more money, and I could thus generate a second source of income.

Millennial, 35 years old, BUX Zero client
My initial idea was to start investing to build something for my future. Nowadays it's totally unattractive to save money and to put it in my savings. I hope to build a stable future with my girlfriend

Gen Z, 24 years old, BUX Zero client
Gen Z investing behaviour was characterised by disruptive companies that produce electric vehicles and plant-based meat substitutes as well as Blue Chip Stocks. This shows a balanced approach where Gen Z is investing in the power of innovative companies, like NIO (1), Tesla (2) and Beyond Meat (15). However, they also invest in legacy companies with a proven track record like Apple (8), ASML (13), Shell (3) and the ETF S&P 500 (6).
What approach are you taking to building your portfolio?
At the moment my focus is on value stocks because it's safer. My goal is to add more growth stocks. I think it's important to create a stable basis first, from there I would like to expand

Gen Z, 21 years old, BUX Zero client
I'm not investing in individual stocks yet. I want to start investing in individual stocks when I'm more experienced.

Gen Z, 24 years old, BUX Zero client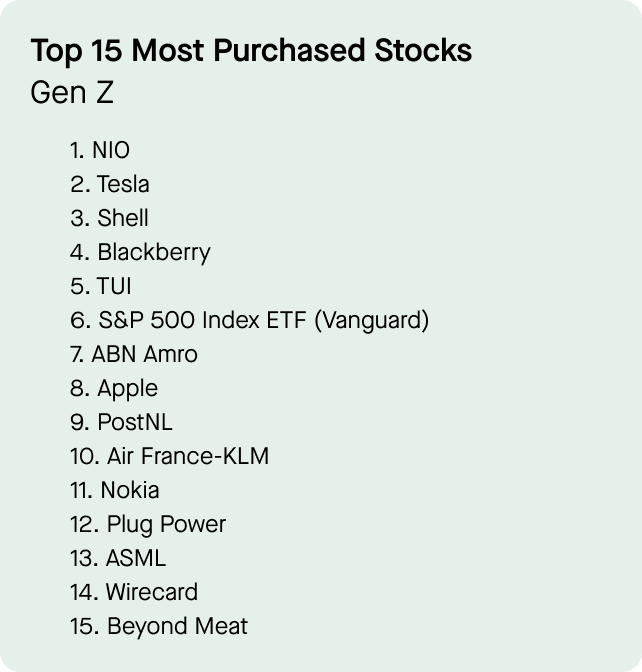 What did we see with millennials? They also focused on disruptive companies in industries focusing on electrical vehicles, food delivery and payments. They also shared a preference for more traditional Blue Chip stocks. Innovative companies that millennials cared about included NIO (2), Tesla (3), Just Eat Takeaway (4), Adyen (14). Both generations also share an interest in similar Blue Chips including Shell (1), ASML (7), ING (11), Apple (13).
About three quarters of my portfolio are dividend-focused stocks and a quarter is growth-focused. I buy stocks with the intention to hold them for the long term. I like to invest in dividend companies that have been here for ages.

Millennial, 35 years old, BUX Zero client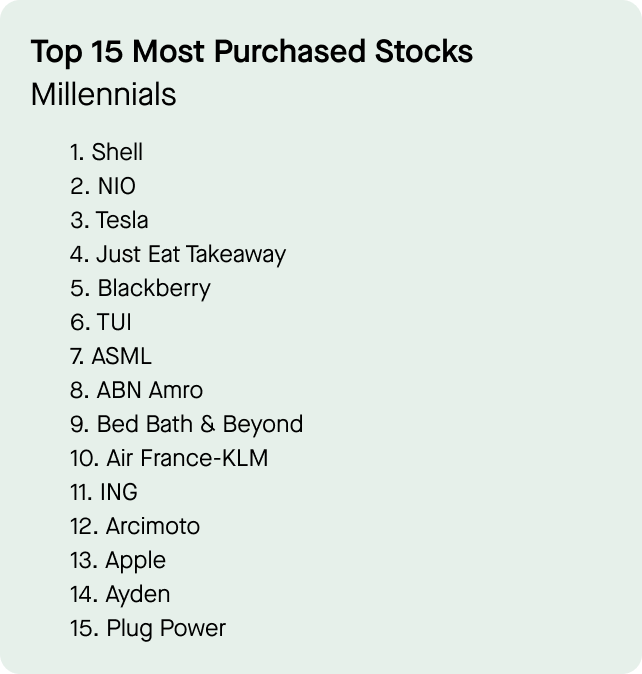 So, what have we learned? Well, millennials and Gen Z investors aren't all that different after all.
Future-focused ETFs

We know the NextGen investor is putting their money behind companies that are disrupting industries, but did we see similar behavior when it came to ETFs?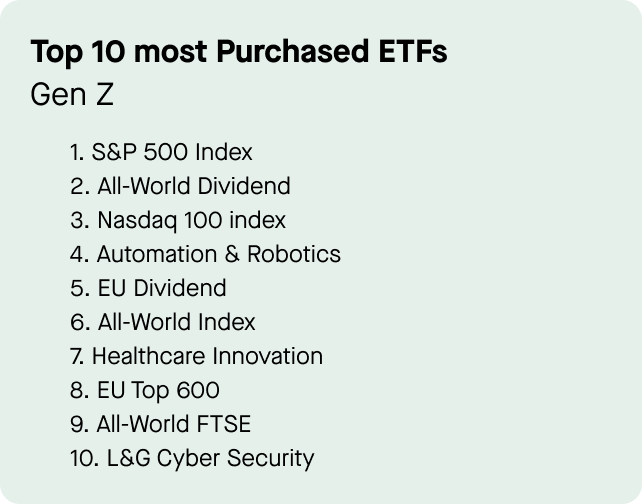 During the first half of 2021, there were four ETFs in the top 10 list of Gen Zs which focused on innovation. One of the most purchased ETFs was the tech-focused Nasdaq ETF. This was the third most purchased fund to invest in. The Automation & Robotics ETF came in fourth place, the Healthcare innovation ETF was placed seventh and the Cyber Security ETF closed the top 10 of most purchased ETFs based on volume.
This shows that the youngest people of the next generation of investors take the rapidly changing world into consideration when thinking about their long-term investing strategy. They also invest in ETFs that are steady and safe, notably the S&P 500, All-World Dividend and Nasdaq – no thrill-seeking here.
My portfolio mostly consists of ETFs that track stocks in Europe and the US. I also invested in a gender equality ETF because I was curious about what that was exactly. I also want to build a more eco-friendly portfolio, but I'm waiting to have more stocks in my portfolio.

Gen Z, 24 years old, BUX Zero client
I have a couple of ETFs in my portfolio. An example is an Asia ETF, due to the fact that I don't know a lot about the Asian Market, I thought the best way is to buy an ETF that is focused on that market

Gen Z, 21 years old, BUX Zero client
I'm not investing in ETFs yet, but I'm planning on buying the S&P 500 ETF.

Gen Z, 20 years old, BUX Zero client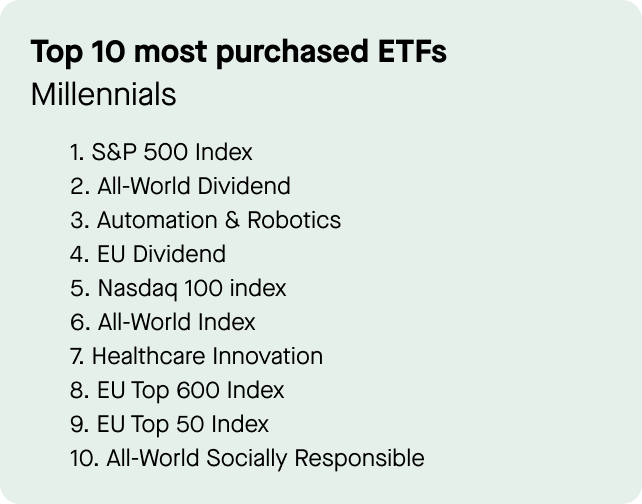 While millennial investors exhibited similar behavior in investing in reliable ETFs, they also focused on ETFs that focused on companies that are innovating for a better future. In the top 10 most purchased ETFs, four out of the ten ETFs match this focus. The third most purchased ETF is the Automation & Robotics ETF, placed five is the tech-heavy Nasdaq ETF, the Healthcare Innovation ETF is placed seven and the All-World Socially Responsible ETF completes spot number 10.
I have companies in my portfolio that are focused on renewable energy, that's because they are running well. I also choose to not invest in the tobacco industry.

Millennial, 35 years old, BUX Zero client
Conclusion
While millennials once knew a world without smartphones, and most Gen Z'ers wouldn't know what to do with a VHS, the two agree on one thing — their financial future is at stake and it's up to them to build a better one through investing.
After analysing the most purchased stock and ETFs investments, we found that both generations generally take a balanced approach to choosing investments. They don't go all-out on one risky industry, but rather diversify their portfolio with both Blue Chip stocks as well as growth stocks. A continuous theme throughout the investments is a focus on companies that are disruptors.
BUX Zero NextGen Investor Profiles
More facts, opinions and experiences from millennial and Gen Z investors at BUX Zero can be found in the table below.