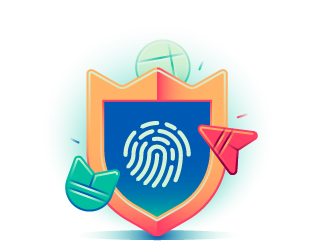 Constant Cybersecurity
2 ETFs and 21 stocks
Akamai
Cloudfare
CrowdStrike
Cybersecurity and Data Privacy
Cybersecurity ETF (L&G)
Datadog
Dynatrace
Elastic
F5
Kratos Defense & Security Solutions
Leidos
Mandiant
NortonLifeLock
Okta
Palantir
Palo Alto Networks
Rapid7
Sailpoint Technologies
Secunet Security Networks
Solarwinds
Splunk
Tenable
Zscaler
View all thematic lists
Cybersecurity Stocks: The Growth Potential Is Enormous
Investing knowledge
Imagine if a group of hackers turned off all the traffic lights in the middle of a major city. Or if a malicious actor took control of a nuclear power plant. Shouldn't we be thinking about these problems? The demand for cybersecurity is growing rapidly, and governments and companies aren't likely to be cutting back any time soon.
In this article, we take a closer look at the sector and introduce you to a variety of stocks and ETFs on BUX Zero that you can invest in.
The demand for cybersecurity will only increase
We live in a world where everyone uses cybersecurity, either directly or indirectly. And that will only increase in the future. You only have to look around at our daily activities and our increasing reliance on the Internet of Things (IoT).
Experts expect the number of IoT devices to increase to about 22 billion by 2025. We can now connect all sorts of everyday devices to the internet including kitchen appliances, cars, thermostats, and even baby monitors. That makes us vulnerable to cybercriminals so the demand for security is increasing.
There is also huge demand for cybersecurity in emerging markets. The economies of countries such as Brazil, China, Mexico, Poland, Romania and Turkey are growing fast and require strong digital security.
There is also the sad reality of war in many parts of the world, which is another driver of cyber security demand. Cyber ​​attacks have become a regular part of geopolitical conflict with sophisticated hacks and cyber warfare. This is already playing out in the current war in Ukraine, where volunteers are helping Ukraine in the fight against Russia's infamous hacker-army. It is expected that conflicts in the future will increasingly be fought through cyber wars.
And what about the metaverse? The battle for the virtual world has already begun and there is a lot of money involved. Fortunately, there are many companies that can help protect us against cyber criminals with smart technology and innovation.
The potential growth of cybersecurity stocks
The cybersecurity sector is poised for strong growth in the coming years as more and more internet connections are made. According to a study by Astute Analytica, the global cybersecurity market could grow at a compound annual growth rate of 13.4% between 2021 and 2027, reaching a total size of $346 billion.
If you invested in cybersecurity stocks through 2021 you would have achieved better returns than the broader market, due to the massive change in the way we work, study and buy goods over the last two years.
In 2021, global mergers and acquisition (M&A) spending in the cybersecurity sector soared to a record $77.5 billion, up more than 300% year-over-year. And things are increasing fast this year, too. Google recently acquired cyber-attack specialist Mandiant for $5.4 billion, while private equity firm Thoma Bravo acquired Sailpoint Technologies for about $6.9 billion.
Unlike spending on things like marketing, companies can't risk cutting back on cybersecurity. Not even when the economy is bad. Therefore, there's a good chance that the revenues of cybersecurity companies could remain stable or even increase during a recession.
Let's take a look at some of the cybersecurity stocks and ETFs you can invest in through BUX Zero.
Invest in dozens of companies through these cybersecurity ETFs
On BUX Zero, you'll find two ETFs that allow you to invest in dozens of cybersecurity companies through one simple product.
The Cybersecurity ETF (L&G) mirrors the ISE Cyber ​​Security Index. It contains about 60 leading cybersecurity and cloud computing companies, such as Cloudflare, CrowdStrike and Proofpoint.
Through the Cybersecurity and Data Privacy ETF (Rize), you invest in more than 50 cybersecurity companies.
Did you know you can add these ETFs to your automated, monthly Investment Plan? Find out more about how it works in this article. And if you'd like to learn more about ETFs in general, visit our ETF Knowledge Centre where you'll find everything you need to know, in simple language.
Big cybersecurity names with strong growth potential
You can also choose to build your own diverse portfolio of cybersecurity stocks. The following companies have struggled at the start of 2022, but analysts believe they have plenty of growth potential in the coming years.
Fortinet makes security software used in many different industries. It includes tools like firewall protection, VPNs, endpoint protection and cloud security. The company also makes cybersecurity software for corporate and government data. Analysts expect a lot from Fortinet in 2022, forecasting revenue growth of 28.6% to $4.29 billion. However, Fortinet's double-digit net sales growth is expected to slow to 20.2% by 2023, reaching some $5.16 billion that year.
Palo Alto Networks is one of the established names in cybersecurity. The company makes products designed for businesses and government agencies to secure their data, networks and devices. This cybersecurity expert made a loss last year, but net sales are expected to rise sharply, by 28.2% to $5.4 billion in 2022 and by 22% to $6.65 billion in 2023. Analysts expect annual net losses to decline in 2022, leaving the company with a loss of $333 million for this year. That would be a lot better than the $499 million loss over 2021.
CrowdStrike sells a cloud-based platform to help companies prevent security breaches. While the company is not expected to generate a profit for the next three years, Crowdstrike is seen as a very promising growth candidate. Analysts are forecasting a 63.8% increase in revenue to $1.43 billion in 2022 and 40.4% to $2 billion in 2023.
Cloudflare is one of the largest cybersecurity stocks with a market cap of about $30.27 billion. Total sales are expected to increase 41.9% to $931 million in 2022 and a further 33.7% to $1.24 billion in 2023. The company makes security products such as Application Programming Interface (API) shields, bot management, distributed denial of service protection, page shields, rate throttling, and encryption protocols that secure communications between computers.
F5 is a cloud specialist that makes secure applications that you can use remotely or on your own network. F5's share price has plunged 20.5% since the start of the year. However, analysts predict that F5's cloud applications will drive a net margin of 12.6% by 2022, growing at an annualised rate of 5.9% to $2.75 billion.
Want to know more about these stocks and ETFs? Look them up in the BUX Zero app and read the descriptions to find out all the details.
Sources
Best Cybersecurity Stocks to Buy Now for March 2022, Yahoo Finance.
What is IoT?, Oracle.
Investing in Cybersecurity Stocks, The Motley Fool.
How To Lock Down A Profit From The Cybersecurity Industry, Finimize.
—
All views, opinions, and analyses in this article should not be read as personal investment advice and individual investors should make their own decisions or seek independent advice. This article has not been prepared in accordance with legal requirements designed to promote the independence of investment research and is considered a marketing communication.