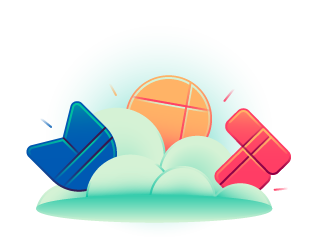 Cloud Companies
12 Stocks
IBM
Intel
AMD
Nvidia
Dropbox
Cisco
Salesforce
SAP
Microsoft
Alphabet
Amazon
Oracle
WisdomTree Cloud Computing ETF
View all thematic lists
How to invest in cloud stocks with BUX Zero
Investing knowledge
The world has moved to the cloud! No longer do businesses run all their hardware and software from the office. Instead, they access everything they need through remote cloud platforms.
The arrival of the pandemic in 2020 accelerated this trend even further. The days of hard drives are long gone!
It's a technological revolution in the way we work, study, communicate and stream entertainment online. And it's here to stay. Despite this new acceleration, the share price of many cloud stocks has suffered in recent months. Is this an opportunity for long-term investors?
First, what is the cloud?
The cloud solves a lot of problems for families and businesses. It's a cheaper and easier way to store data, as well as use software and stream media. The sector is expected to grow rapidly, at a compound annual growth rate (CAGR) of 19% over the next seven years. Let's see what types of companies are in the cloud:
Cloud enablers
These are companies that build the hardware, components and infrastructure for the cloud. Examples include:
IBM – There are several reasons IBM is not as popular as Amazon Web Services, Google Cloud or Microsoft Azure. But we can summarise it in one quick sentence: they didn't see the opportunity fast enough! Despite that, IBM is still one of the biggest companies in the space.
Intel: Intel is the world's largest manufacturer of integrated circuits or microchips. The company is now working with Alphabet to create a new type of chip that Intel hopes will revolutionise the cloud. Intel shares have been on a rollercoaster ride since the start of the pandemic. Meanwhile, inflation and supply chain issues are still a headwind.
AMD: Advanced Micro Devices is Intel's great rival in the world of microchips and semiconductors. Profits have skyrocketed in the last six years and, with that, the share price of AMD. Like many other tech companies, however, there's been some volatility since December.
Nvidia: Nvidia is another major chipmaker. Nvidia originally specialised in gaming chips, but it now supplies data centres, too. This is the fastest-growing part of the Nvidia business. Like most of these companies, its revenue and share price soared during the pandemic, but the stock has fallen sharply since the end of November.
Dropbox: Dropbox is a cloud storage service that lets you save and sync files across your devices. The company's income hit $550.2 million in the third quarter of 2021, which is 12.9% higher than the same quarter last year. But even that hasn't stopped the share price from dropping sharply since November.
Cisco: This US company is the world's biggest producer of telecom equipment and routers. But it also generates more than 30% of its sales from cloud applications and platforms. Cisco hopes that figure will reach 50% by 2025.
Cloud Solution Providers
Cloud solution providers are divided into two groups. First, software and applications like Salesforce, Slack and Microsoft. Secondly, the infrastructure platforms like Amazon Web Services and Google Cloud. Let's take a closer look.
Cloud software and applications
Known as software as a service (SaaS), these are applications or software platforms you can access through the internet without downloading clunky installation software like the old days.
Cloud platforms and infrastructure
Known as platform as a service (PaaS), these are platforms where users can create and distribute their own apps and software without worrying about all the expensive hardware and infrastructure.
Want to know more about these cloud companies? Visit the profiles in the BUX Zero app!
–
All views, opinions, and analyses in this article should not be read as personal investment advice and individual investors should make their own decisions or seek independent advice. This article has not been prepared in accordance with legal requirements designed to promote the independence of investment research and is considered a marketing communication.