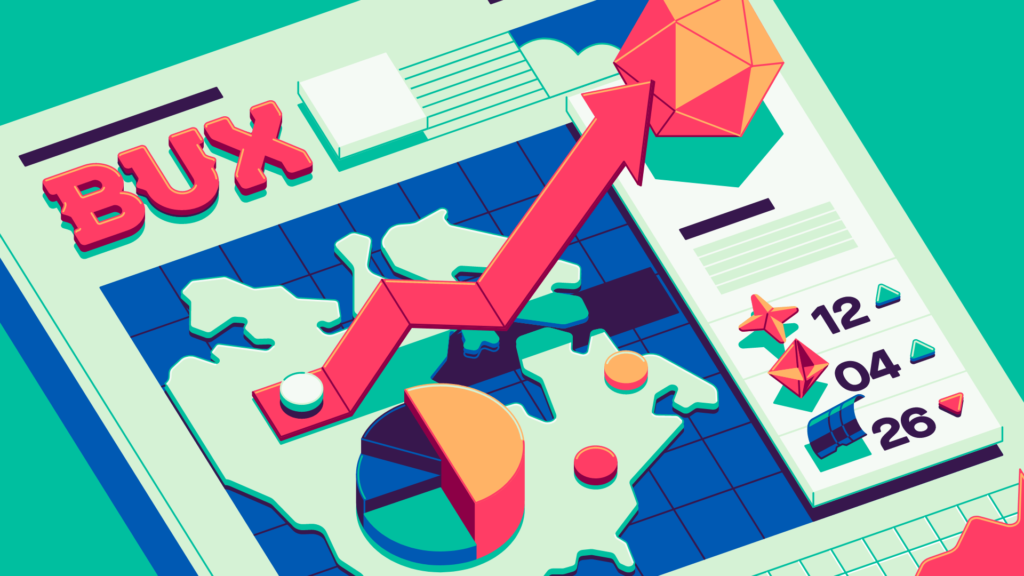 Fancy being a Tesla shareholder? Or how about an Apple shareholder? Owning US stocks is one of the best ways to make your money go further. If you bought Apple shares 10 years ago, the price per share would have increased by around 820%. If you had done it 5 years ago, this would still be more than 140%.
Not bad when the interest rate at your bank is stuck near zero. In simple terms, investing in shares gives you the potential to do more with your money.
What US stocks can I buy?
You can buy shares in most of your favourite American companies. Everything from Facebook to Amazon to Netflix. Here you can see what kind of US stocks you can invest in on BUX Zero. Missing any? We will constantly add new shares, so no worries.
Almost all US stocks are listed on one of two stock exchanges: the New York Stock Exchange (NYSE) and the Nasdaq. The NYSE is traditionally the home of classic American companies like Ford, Coca-Cola and Visa. The Nasdaq is the high-tech exchange, home to the likes of Apple, Microsoft, Facebook and Netflix.
How to buy US stocks?
Today, it's easier and cheaper than ever to own a slice of your favourite companies and invest in the US stock market. All you need is an app.
In the past, you'd need a Wall Street broker on speed dial. And it was expensive. Really expensive. Think big commissions, holding fees, sneaky hidden costs and huge minimum deposits (often tens of thousands of pounds).
BUX Zero has cut those fees and made it commission-free to buy shares. That means you get to keep more of the profits. All order types for US stocks at BUX Zero are free of commission. That's crucial if you're just starting out in the stock market. When you're investing small amounts of money, those commissions can easily wipe out your gains.
Can I buy US stocks if I live in Europe?
Yep! Europeans can access the US stock market, too. It used to be expensive. Not only did you have high fees, you'd have to pay an exchange commission to turn your profits and dividends back to Euros.
BUX Zero lowers those, too (as little as 0.25%). You can use this fee calculator to find out how little it costs to invest in US stocks.
Create a portfolio that matters to you
You're in charge of your own portfolio, which means you can choose stocks that fit with your personal interests and values. BUX Zero allows you to categorise your investments.
You can, for example, focus exclusively on buying green energy shares, consumer shares or invest in pharma. With COVID-19, pharma shares can be quite profitable, at least the ones that develop the vaccine first.
How to buy your first US stocks
Download the BUX Zero app for iOS or Android.

Create an account and get verified

Load up your account

Browse US stocks from a handy list of categories (tech, healthcare, travel, automotive, etc.).

Buy your first stock and add it to your portfolio.
Done! It's that simple to take control of your financial future and do more with your money.

All views, opinions or analysis expressed in articles are that of the author and do not represent the views of BUX. Neither BUX nor the author provide financial advice and these articles should not be construed as such.