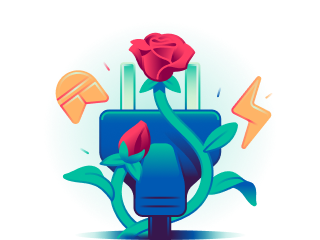 Investing in green energy
2 ETFs and 26 stocks
Green Plains
Solaredge Technologies
Ballard
Canadian Solar
Sunrun
Sunpower
First Solar
Cheniere Energy
NextEra Energy
Enphase Energy
Neoen
Iberdrola
Clearway Energy
FuelCell energy
Jinko Solar
Sunnova Energy International
Encavis
Hannon Armstrong Sustainable Infrastructure Capita
Nordex
Verbund
Daqo New Energy
Renewable Energy Group
Acciona
Technip Energies
Siemens Gamesa Renewable Energy
SMA Solar Technology
Global Clean Energy ETF (iShares)
New Energy ETF (Lyxor)
View all thematic lists
A Green Light for Renewable Energy
Investing knowledge
Did you know? Iceland is the most advanced European country in terms of green energy. Its renewable output is equal to 84% of gross consumption. Will its neighbours catch up soon?
Global environmental awareness is growing fast, and Europe's reliance on Russian oil has brought green energy into the spotlight. In all corners of the planet, investment in green alternatives is multiplying. And a growing market usually leads to investment opportunities!
An overview of the green energy market
The experts from the EIA (Energy Information Administration) predict a 50% increase in global energy needs by 2050. Meanwhile, all the signatory countries of the Paris Agreement have committed to achieving carbon neutrality. That unlocks a huge opportunity for renewable energy.
But what exactly are green energies? It's the technology that makes it possible to replace fossil fuels with renewable alternatives. This can include solar, wind, hydro-electric, geothermal, biomass and biofuels, but also new innovations like hydrogen.
According to a study by Bloomberg New Energy Finance, global investments in the energy transition sector increased by 27% in 2021, to reach $755 billion. Almost half of that ($366 billion) was directly in renewable energies. And these numbers are likely to increase: the goal of carbon neutrality in 2050 requires a tripling of these investments by 2025.
Billions in government spending
Governments are playing a big part in financing this energy transition. Joe Biden revealed a massive investment plan in November 2021 worth $65 billion dollars devoted to research and investment in green energies in the United States. Now Europe is following the same trend. The RePowerUE plan will provide €210 billion in green investments, with the goal of doubling the production of solar electricity by 2025.
In France, Emmanuel Macron made a recent commitment to provide an additional €10 billion each year to finance the energy transition. France is also aiming for world leadership in green hydrogen by 2030.
Meanwhile, Germany has raised its goals for green energy production to help reduce its reliance on Russian oil. Europe's leading economy is aiming to produce 85% of electricity from clean energy by 2030 (compared to 65% previously), then 100% in 2035!
Booming "climate tech"
The private sector is also thriving. "Climate-tech" companies raised $111 billion in 2021, including $53.8 in the field of energy. On the start-up side, Lhyfe, the French leader in green hydrogen, is preparing to go public.
Investing in this sector can pay off. The Bloomberg Goldman Sachs Clean Energy Index is up 112% over the last two years, although green energy stocks underperformed the MSCI World Index in 2021.
Green energy companies on BUX Zero
Below is a list of green energy in the high-growth sector you can invest in with BUX Zero.
Canadian Solar: This Canadian company specialises in the production of photovoltaic modules (aka solar panels). The stock had a rough month in April with a 23% drop in its price but it still has good fundamentals. Its revenue rose 47%, and its earnings per share (EPS) jumped 255% in the fourth quarter of 2021 year-on-year. The company has also raised its revenue forecasts for 2022 to $7-7.5 billion, in line with analyst forecasts. EPS is expected to rise by 60%.
Solaredge Technologies: Listed on the NASDAQ since 2015, the Israeli company also specialises in the production of solar panels. It saw its revenue climb 62% year-on-year in the first quarter of 2022. The company hasn't made any forecasts for the full year 2022, but analysts believe in its potential: they anticipate a 52% increase in sales (to $2.98 billion) with EPS expected to rise 37%.
Daqo New Energy: Another player in the solar panel industry, the Chinese company produces polysilicon, and is taking full advantage of China's recent pivot towards clean energy. In the first quarter of 2022, its revenues jumped by 400%, and its EPS by 562% year-on-year. They expect another strong increase in revenue for this year, rising 83.9% to $1.68 billion. EPS is expected to rise by 68%.
NextEra Energy: The American company is the largest producer of renewable energy (solar and wind) in the world. The stock has declined since the start of the year (-23%), but its EPS still increased by 10% in the first quarter of 2022. Analysts remain optimistic, too. Overall, they expect an increase in revenue of 24% this year, at $21.29 billion, and EPS growth of 10%.
Neoen: The French company is an independent producer of renewable energies (solar and wind). In the first quarter of 2022, the company saw its revenue increase by 36%. Analysts forecast a 29% increase in turnover this year to €430 million euros and EPS growth of 60%.
Finally, we could also (and paradoxically!) name certain oil industry giants such as TotalEnergies and Shell, which, through massive investments, are aggressively investing in renewable energies, under pressure from their main shareholders.
How to go green and diversify your portfolio with ETFs?
If you're not sure which companies to choose, you can also invest in dozens of green energy companies through one product, via two ETFs: Global Clean Energy ETF (iShares) and New Energy ETF (Lyxor). Killing two birds with one stone, this allows you to diversify your portfolio and invest sustainably. To learn more about sustainable investing, you can read this article.
Tip: don't forget, you can add these ETFs to your monthly Investment Plan.
Want to learn more about these stocks? Check out their profiles on the BUX Zero app to find more information about them.
—
All views, opinions, and analyses in this article should not be read as personal investment advice and individual investors should make their own decisions or seek independent advice. This article has not been prepared in accordance with legal requirements designed to promote the independence of investment research and is considered a marketing communication.