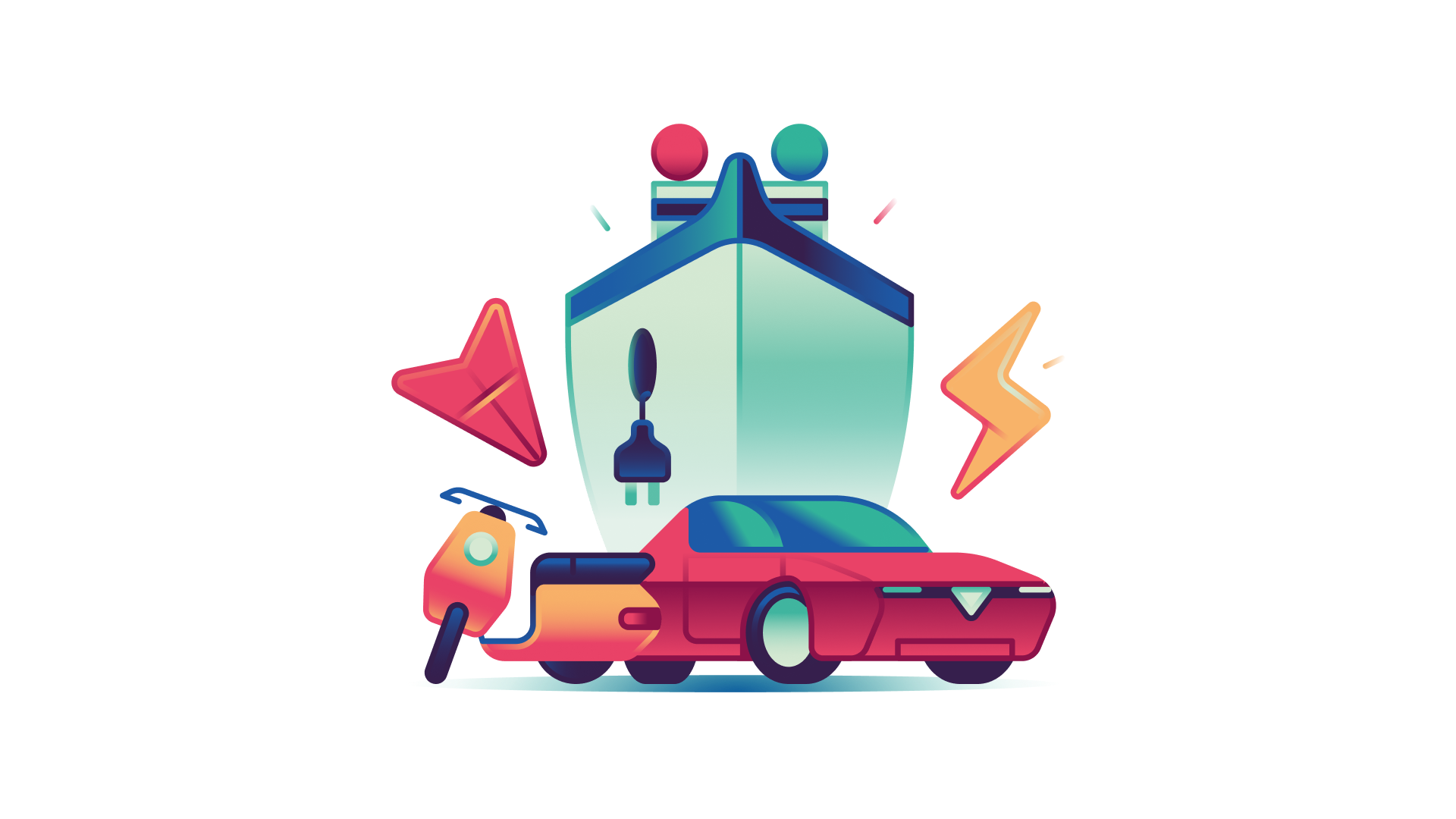 Investing in Electric Car Stocks
8 stocks
Tesla
NIO
Lucid Motors
Rivan
Shell
QuantumScape
Mercedes-Benz Group
Ford Motor
View all thematic lists
Investing in Electric Car Stocks: Time to Recharge Your Portfolio?
Investing knowledge
A huge change is coming to the automotive industry. The European Parliament has voted to ban the sale of combustion engine vehicles from 2035. Norway shouldn't have too much to worry about since they already have 90% electric cars! But it's a real revolution across the rest of Europe. Even the US is getting in on the action. Joe Biden wants 50% clean cars by the end of the decade.
Traditional manufacturers are scrambling to make the transition, while a wave of new companies (mostly in Asia) are capitalising on the new era. It's not just about the cars, either. The entire industry will change. Charging stations, gigafactories, new batteries: the race is on to develop this new future.
With that in mind, what opportunities are there for your portfolio and Investment Plan?
Electric car sales are accelerating
According to specialist firm Matthias Schmidt, 1.2 million fully electric cars were sold in Western Europe in 2021, up 64% year on year. Analysts now expect EV models to have a 65% market share by the end of the decade (compared to approximately 12% at the time of writing – 2022).
Bloomberg has another interesting statistic. Did you know that a new electric vehicle is sold every three seconds? That's a total of one million new cars every month. There are now 20 million battery-powered vehicles around the world.
In just six years, this figure has grown 20x. China is a big part of this growth, with a market share of 46%, ahead of Europe (34%) and the US (15%).
Massive investments in electric mobility
Approximately $273 billion was invested in EV technology in 2021, up 77% from the previous year. That makes it the second-largest investment in the energy transition, after renewable energies. Some experts think electric vehicle investment will overtake renewables this year.
So, how can you capitalise on this trend? Which stocks on the market are related to electric mobility?
Invest in publicly traded electric vehicle stocks
Tesla. The history of Tesla and the stock market can be summed up in one figure: 23,000%. That's the rise of Tesla's share price in the last 12 years. But beyond the enormous rise in value, the Californian firm also has the highest profit margins of any car company, excluding some of the luxury manufacturers. According to calculations, the company generated $5.5 billion in profit last year with an operating margin of 12.1% in 2021. It also holds the title for the biggest increase in the number of vehicles sold (+87%).
Tesla is years ahead of many other companies due to geographical diversification and its vertical business model which includes battery manufacturing and its own charging network. This makes it much more resilient than its competitors in the face of various shortages affecting the automotive sector. For example, the company is increasing contracts in order to secure the supply of lithium and nickel, two metals that are essential for making batteries.
Among the many Asian rivals, the Chinese NIO and Xpeng Motors are among the front runners. The two manufacturers each sold more than 90,000 vehicles worldwide in 2021. Drawing on their experience in China, which is the world's largest automotive market, the two companies are now expanding into the European markets. Analysts expect sales growth of 57% this year for NIO and 60% for Xpeng.
Investing in charging station manufacturers
If we're driving towards a world of electric cars, we need charging stations! The recent European green deal will introduce a "fast terminal" every 60 km within the next three years. The association of European manufacturers is asking for 6.8 million terminals by 2030 (about 14,000 new charging stations daily!) So, which manufacturers can you invest in?
Fastned. The Dutch startup specialises in ultra-fast charging stations (full charging in about 20 minutes). Considered a 'pure play' in charging station infrastructure, the company went public in 2019 and raised €150 million in 2021. It already operates 200 stations across Europe. According to analysts, its revenues could reach €34 million this year (compared to €12 million in 2021). That should increase to €66 million next year and €124 million in 2023.
TotalEnergies. The French oil giant is embracing the clean energy transition. The company has invested €200 million to equip its 200 French service stations with electric charging points. It will also install 4,400 charging stations in Belgium.
British competitor Shell has joined the traditional car manufacturers (Volkswagen, BMW, Mercedes-Benz and Ford) in the Ionity consortium, alongside asset manager Blackrock. These players aim to build and operate 1,000 stations and 7,000 high-powered charging points over the next three years.
Invest in electric car battery makers
Want to drive 1,000 km without recharging? This is a daring challenge for Mercedes-Benz, which relies on solid-state batteries. According to figures from the International Energy Agency, the demand for these batteries doubled in 2021. The technology, which makes it possible to double the capacity of electric vehicles, is the holy grail of the automotive industry.
QuantumScape. Founded in 2010 and listed on the stock market in 2020, the solid-state battery specialist counts Bill Gates among its investors, as well as Volkswagen which has invested no less than $300 million in the company. QuantumScape claims its technology can increase the capacity of vehicles by 80% compared to conventional lithium-ion batteries and could supply Volkswagen's EV cars from 2025. By saving lithium, solid-state batteries also make it possible to reduce production costs (battery costs often make up to 40% of the cost of an electric vehicle).
What about traditional manufacturers?
Stallantis. The Franco-Italian manufacturer, created in 2021 from the merger between Peugeot-Citroën and Fiat-Chrysler, aims for 100% electric production (5 million vehicles) in 2030, and from 2026 in Europe. With 136,000 electric vehicles sold in the first half of the year in Europe, the company is already the second-largest EV producer in this area. The company has invested heavily in battery manufacturing around the world, particularly in partnership with Mercedes and TotalEnergies in Europe (the three companies are united under the Automotive Cells Company entity).
Volkswagen remains Europe's leader in Europe, although it's still far behind Tesla on a global scale (452,900 electric car sales in 2021, compared to Elon Musk's 936,000). The German manufacturer is also preparing to accelerate its electric transition by spinning off Porsche onto the stock market by the end of the year. The revenue expected from this spinoff (€15-20 billion) will help feed Volkswagen's €70 billion plan for electrification. The company plans to control six battery megafactories by 2030 in order to equip 3 million vehicles every year.
Renault. The French carmaker is creating an entity called Ampère dedicated solely to the company's electric cars. It could be listed separately on the stock exchange from the autumn of 2023 to help reach Renault's goal of 100% electric production by 2030. The company is striking partnerships to give it access to the necessary supply chain, including Valeo for the motors and German company Vitesco Technologies for the electric drivetrains.
We should also mention the German company BMW, which is aiming for 100% electric production for its brand of 3-door city cars MINI from 2030. It has already invested $135 million, along with Ford, in Solid Power (which makes solid-state batteries). Already a pioneer in hydrogen vehicles, Toyota Motor is the world's leading manufacturer in terms of vehicles sold. The company is aiming for 90% electric vehicles by 2025.
Finally, the US company Ford aims to sell 2 million electric vehicles worldwide from 2026. To achieve this goal, Ford has announced a plan to invest $50 billion in electrification over the next five years. The company can also take advantage of a unique US tax credit, which gives them $7,500 back for the purchase of any electric model.
Another US company, General Motors, will only produce electric vehicles from 2035. The Detroit company plans to sell 1 million electric cars by 2025 and has invested $35 billion in this sector.
Invest in publicly traded electric car companies with BUX Zero
Tesla
Xpeng Motors
Li Auto
Nio
Lucid Motors
Arcimoto
Rivian
Fastned
TotalEnergies
Shell
ChargePoint
QuantumScape
Renault
Valeo
Vitesco Technologies
Stellantis
Mercedes-Benz Group
Volkswagen
BMW
Toyota
Ford Motors
General Motors
PlugPower
Ballard
If you want to know more about these stocks related to the electric car industry, check out their profiles in the BUX Zero app!
All data as of 14/09/2022
—
All views, opinions, and analyses in this article should not be read as personal investment advice and individual investors should make their own decisions or seek independent advice. This article has not been prepared in accordance with legal requirements designed to promote the independence of investment research and is considered a marketing communication.