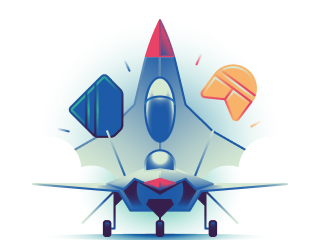 Military and defence stocks
40 stocks
AAR
Aerojet Rocketdyne
Aerovironment
Airbus
Amphenol
Axon Enterprise
Boeing Company
Booz Allen Hamilton
BWX Technologies
CACI International
Curtiss-Wright
Dassault Aviation
General Electric
Heico
Honeywell
Howmet Aerospace
Huntington Ingalls
Indra Sistemas
Jacobs Solutions
Jenoptik
KBR
Kratos Defense & Security Solutions
L3Harris
Leidos
Lockheed Martin
Maxar Technologies
Mercury Systems
MTU Aero Engines
Northrop Grumman
Oshkosh Corporation
Raytheon
Rheinmetall
Safran
Sturm Ruger & Company
Teledyne
Textron
Thales
ThyssenKrupp
TransDigm
ViaSat
View all thematic lists
Protect the World: Defence Stocks
Investing knowledge
No stock index has been spared from the bearish market conditions in 2022, triggered by inflation, rate hikes and the war in Ukraine. But there are a small group of stocks that have outperformed the rest of the market: defence, security and weapons. We tell you everything about defence stocks.
Among the public companies include Lockheed Martin, Raytheon, Boeing and Northrop Grumman in the United States, and Rheinmetall, Thales, Dassault Aviation and Airbus in Europe. All of them could benefit from the increase in public spending on defence due to the current global geopolitical situation.
A polarised world
When the USSR fell in 1991, the Cold War ended and so did the global nuclear arms race. But the polarisation across the world continued with ongoing nationalism in Russia and China. The rivalry between the world's leading power, the United States, and China is at the epicentre of this change. The war in Ukraine is another example of this deepening divide between major global powers. Since 2015, public spending on defence has increased sharply around the world.
Russia's invasion of Ukraine on February 24, 2022 has accelerated the process. The thirty countries that make up NATO have committed to investing 2% of their GDP in defence, if they are not already doing so, including Germany, in a historic decision.
Increase in military spending
The large increase in military spending by countries will likely translate into higher revenues for companies in the defence sector and defense stocks. According to the Stockholm International Peace Research Institute (SIPRI), there are a total of 27 European companies among the 100 largest defence companies in the world. The rest of the companies on that list are American, followed by Chinese and Russian companies, which we have not included in this thematic investment list.
The United States is by far the largest military power in the world. Its defence budget for 2022 is $782 billion, almost three and a half times more than that of the second world power, China, whose budget for the same year is $229 billion. These figures are expected to increase in the coming years, given the current geopolitical context.
Profitability of defence stocks
Over the past ten years, the annual return of the Dow Jones U.S. Select Aerospace & Defense, which measures the performance of US companies in the aerospace and defence sector, has been 13.5%, as of August 31, 2022. And that is despite the reduction in military spending experienced around the world during the pandemic.
In this thematic investment list, we'll show you which companies give you exposure to the defence sector. It also includes some names from the cybersecurity sector, which also has its own thematic list. At BUX Zero you can invest in at least 40 defence companies:
Aerospace stocks
Among the five largest military aerospace companies in the world are Boeing and Airbus. However, both suffered financially during the pandemic due to their business in commercial aeroplanes, and their stocks have yet to return to pre-pandemic levels.
Ship and submarine builders
The following five companies are giants in the construction of warships and military submarines. However, many on this list have diverse operations and could also appear in the group of weapons manufacturers or fighter aircraft, such as Northrop Grumman or Thales.
Land vehicle companies and stocks
By 2022, the global market for military ground vehicles will account for some $18.4 billion annually, according to a recent report by British firm Global Data. In 2032 it will be $27.6 billion, 50% more. Here are a few companies operating in this sector:
Weapons and arms manufacturers stocks
These five companies, especially the first, Raytheon, are key in the arms sector. But other defence stocks mentioned previously, such as Northrop Grumman and Lockheed Martin, are also heavyweights in weapons manufacturing.
Defence stocks to invest for the long term
If you believe that defence stocks will provide long-term value, you can start by investing a little every month using "dollar cost averaging." This strategy helps smooth out the volatility and averages out your overall cost.
With BUX Zero you can invest automatically by creating an investment plan. You pick the stocks and choose how much to invest each month, we'll execute the plan for you automatically. You can select full shares or smaller amounts using fractional investing. Investing a small amount every month with a long-term investment plan can be a great way to avoid market volatility, grow your money and avoid today's high inflation. You can even have more than one plan at a time.
Invest in defence stocks with BUX Zero
AAR, Aerojet Rocketdyne, Aerovironment, Airbus, Amphenol, Axon Enterprise, Boeing Company, Booz Allen Hamilton, BWX Technologies, CACI International, Curtiss-Wright, Dassault Aviation, General Electric, Heico, Honeywell, Howmet Aerospace, Huntington Ingalls, Indra Sistemas, Jacobs Solutions, Jenoptik, KBR, Kratos Defense & Security Solutions, L3Harris, Leidos, Lockheed Martin, Maxar Technologies, Mercury Systems, MTU Aero Engines, Northrop Grumman, Oshkosh Corporation, Raytheon, Rheinmetall, Safran, Sturm Ruger & Company, Teledyne, Textron, Thales, ThyssenKrupp, TransDigm, ViaSat.
All data as of 14/10/2022
—
All views, opinions, and analyses in this article should not be read as personal investment advice and individual investors should make their own decisions or seek independent advice. This article has not been prepared in accordance with legal requirements designed to promote the independence of investment research and is considered a marketing communication.