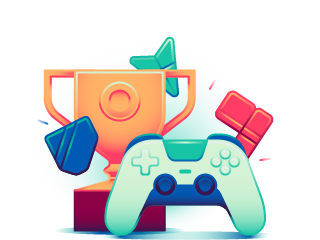 Video games for everyone
24 stocks and 1 ETF
Activision Blizzard
Alphabet
Amazon
AMD
Apple
ASML
Atari
Electronic Arts
GameStop
Intel
Kingsoft Cloud
Microsoft
Nacon
NetEase
Netflix
Nvidia
Qualcomm
Roblox
SEA
Sony
Take-Two Interactive
Ubisoft
Unity3D
Video Gaming and Esports ETF (VanEck)
Zynga
View all thematic lists
Are Video Games and eSports a game changer?
Investing knowledge
Did you know? According to a recent study by Research and Markets, the video game sector is expected to reach sales of $293.2 billion dollars in 2027? That's a growth rate of 245% in ten years. The pandemic has strengthened the video game industry, which is growing at a rate of 14.5% per year and is no longer just for children.
Another study, from Morgan Stanley Research, highlights that games are popular across all ages and demographics. In fact, half of Americans surveyed have played some form of video game in the past year, whether on a computer, console, mobile device, or through virtual reality headsets.
History and future
The first video game was released in 1958, called Tennis For Two. The industry has exploded since then with thousands of companies involved in making and distributing video games, as well as developing hardware and hosting eSports events.
At the same time, technology is evolving and taking the video game sector to the next level. Everything from artificial intelligence (AI), 5G, cloud tech and the metaverse.
Extended reality (XR) is a term that encompasses all the virtual elements that are used to create digital environments and objects. There are many concepts involved here, including Virtual Reality (VR), Augmented Reality (AR) and Mixed Reality (MR). The future of video games will be created using these technologies. In addition, many companies are "gamifying" their marketing strategy or directly advertising in video games.
As for eSports, you're probably familiar with games like League of Legends and Counter-Strike. But did you know that there are professional gamers making huge sums of money? The industry is expanding rapidly thanks to a huge fan and viewer base, global events, and mind-blowing prizes. The sector was hit hard by the pandemic, but in 2021 it still generated more than a billion dollars in revenue, a figure that will grow much higher in 2022.
Let's take a look at some interesting stocks and ETFs in this sector that you can invest in at BUX Zero.
Video game developers
These are studios that create video games, often with a higher production cost than Hollywood movies.
Activision Blizzard emerged in 2008 after the merger of two of the most important video game companies at the time: Activision and Vivendi Games. Since then they have developed famous games such as World of Warcraft, Diablo, Call of Duty and Candy Crush. In January the company was acquired by Microsoft, which also owns another big developer, Bethesda.
Atari is the creator of Pac-Man, Pong and Space Invaders. Since its creation in 1972, the company has established itself as one of the biggest names in the sector.
Electronic Arts is one of the most prestigious developers in the world. And if you're a gamer, you probably know it better by the acronym EA. The company owns classic games like Sims, Battlefield and FIFA. EA also has an agreement with Disney to develop video games for the Star Wars saga.
Take-Two Interactive was founded in 1993 and is the creator of legendary games like Red Dead Redemption, Grand Theft Auto (GTA) or the NBA video game series.
Ubisoft is a French video game developer and home to titles like Assassin's Creed, Far Cry and Tom Clancy. It is by far the largest video game company in Europe.
Hardware manufacturers
These are companies that make video game hardware, such as consoles, mobile devices and computers, as well as microchips, graphics cards, controls, steering wheels, screens, speakers, guns and even gaming chairs.
Microsoft. Without Microsoft, we wouldn't have the Xbox. The American tech company is also the owner of Minecraft, one of the most successful games in the world. In the cloud gaming sector, it also has a division called XCloud. On top of that, Microsoft now owns Activision, Bethesda, and 30 other gaming studios.
Nvidia produces graphics chips for the video game industry, as well as a cloud gaming service called GeForce Now.
Sony is famous for creating the PlayStation. We've put Sony in the hardware list, but the company also owns more than 15 gaming studios and developers, including Bungie, Naughty Dog, Guerrilla Games and Insomniac Games.
Distributors and streaming services
These are companies that offer a platform to play or download games online.
Alphabet has a cloud gaming service called Stadia that debuted in 2018.
Amazon owns Twitch, a live streaming platform with a strong gaming community. It also owns Amazon Games, which includes four video game developers, including Relentless Studios.
Apple generates more profits from video games than Sony, Nintendo, Microsoft and Activision combined. The 30% commission for downloading games on the iPhone is a lucrative deal for Apple. Incredibly, it earns more than the big publishers without owning a single game development company.
Game Stop is one of the biggest video game stores in the world. Although the company was in decline for many years, it recently gained a lot of popularity thanks to traders and investors on Reddit.
Kingsoft Cloud is a Chinese cloud company whose services are primarily focused on gaming and video streaming. It was founded in 2012 and is headquartered in Beijing.
Netflix has recently included video games to its subscription package. With a potential user base of more than 220 million, this could be one to watch.
Investing in video games through a single product
If you're not sure which video game stock to choose, you can pick an ETF instead. On BUX Zero you can invest in 25 of the largest video game companies in the world through one ETF. The Video Gaming and eSports ETF (VanEck) tracks the MVIS Global Video Gaming & eSports Index, which is a basket of 25 companies that generate at least half of their revenue from gaming or eSports. It includes companies like Nvidia, Tencent, Nintendo, EA, Tencent, Ubisoft and Take-Two.
Do you want to diversify even more?
Some of the shares in the sector can be expensive, which can be off-putting for some investors. Fortunately, thanks to fractional investing on BUX Zero, you can buy fractional shares of companies such as Alphabet or Amazon for as little as 10 euros.
—
All views, opinions, and analyses in this article should not be read as personal investment advice and individual investors should make their own decisions or seek independent advice. This article has not been prepared in accordance with legal requirements designed to promote the independence of investment research and is considered a marketing communication.